Details

Created on Tuesday, 10 December 2013 01:33
Written by Terry Firma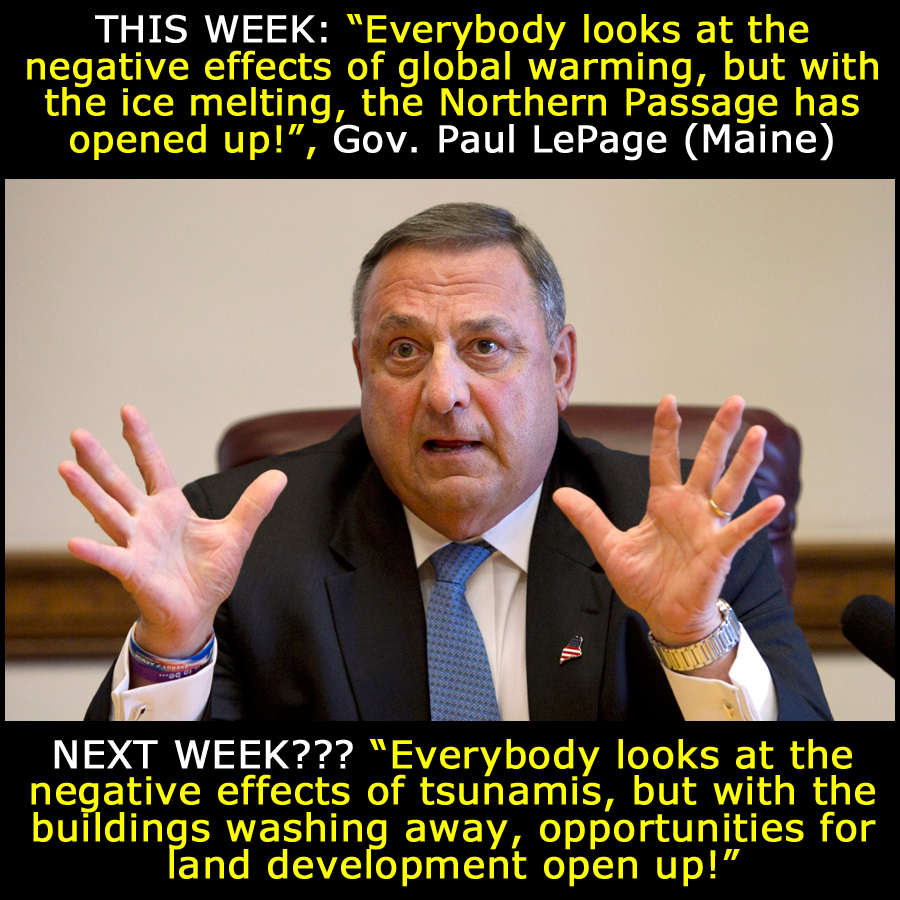 How anyone in this supposedly enlightened day and age can actually find a "good side" to the nagging problem of global warming seems at once to be quite beyond the pale. With all the
scientific evidence
backing the issue's devastating effects on our battered Earth, it is simply absurd that anyone could be that stupid.
But stupid is as stupid does, as a wise character once said, and so Maine Governor Paul LePage has, in an astounding and shameless display of bare-faced folly, reached far and wide and come up with a crackpot theory about global warming that goes against all evidence to the contrary.
"Everybody looks at the negative effects of global warming, but with the ice melting, the Northern Passage has opened up," LePage said recently at a transportation conference. "So maybe, instead of being at the end of the pipeline, we're now at the beginning of a new pipeline."
Sure, Gov. LePage, a new pipeline ... a pipeline to Hell on Earth.
Of course, LePage's screwball theory would have nothing to do with the possibility of financial gain, now would it?
According to Daily Kos
, perhaps LePage's special arrangement with an Icelandic shipping company whose president feels much the same brings to light their mutual belief that utilizing a Northern Passage route to ship goods into Maine is a simply grand idea.